Products
Thanks to our state-of-the-art technology and know-how, all our products share the same minimum values of fat, fiber and consistent moisture; aiming at the best performance in the extrusion process as an industry standard. Our real value lies in our success to eliminate soft endosperm (break) flour from the hard endosperm grits, which are very similar in nature therefore very difficult to differentiate. Soft endosperm flour is a problem-maker causing unpredictable results in the extrusion process. Our extensive R&D efforts in this field resulted in the total elimination of this problem.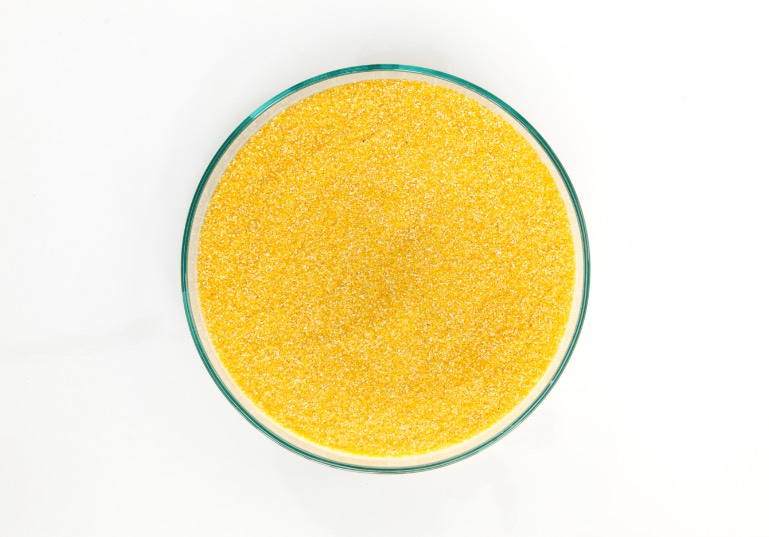 Grits
Coarse grits types – focused around 700-1000 microns, best for crunchy products with large cell structure.


Fine grits types – focused around 350-700 microns, best for a softer bite with a finer cell structure.


Medium grits types – focused around 500-850 microns, for maximum flexibility.
Yellow Maize Flour, EXTRA FINE Maize Flour and Snack Flours:
In line with the market requirements we allocated two sets of rollers and plan sifter passages within our diagram capability to achieve further reduction of regular flours from below 400 microns to below 200 microns. This process allows us to differentiate between the low quality break flours and high quality and expandable reduction flours in which the starch granules are intact and perform superiorly when cooked both in extrusion or stove top direct consumption with its high expansion, solubility and viscosity as well as its stable texture and organoleptic properties.